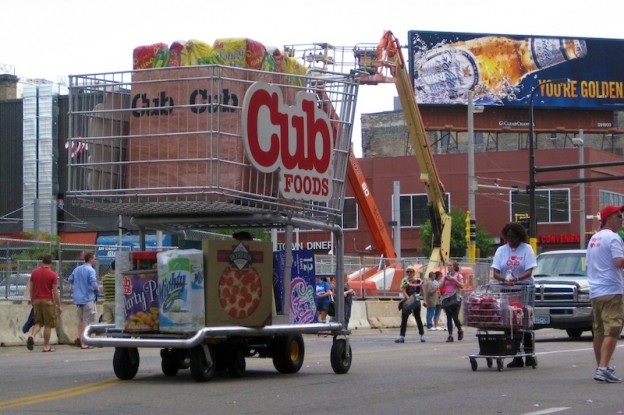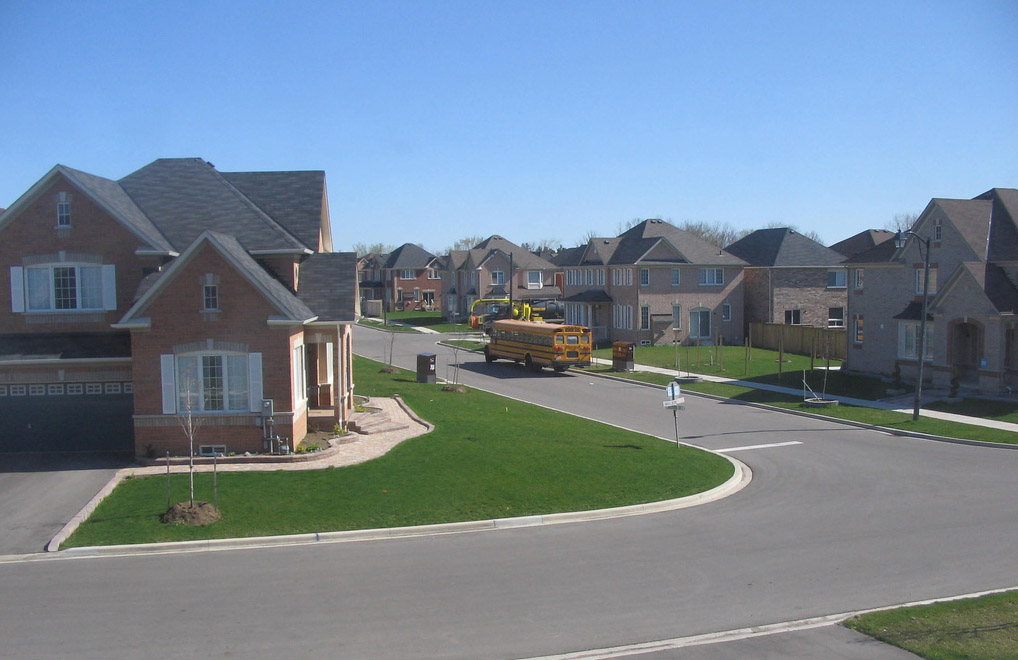 Dec 6, 2012, 8:30 AM
Decline: SUPERVALU CEOs continue to cash in while the company underperforms
A Minnesota retail giant that employs over 150,000 people nationwide is floundering.  Constant changes in leadership.  Cuts that hurt the rank-and-file while the executives skate by.  A future very much in doubt.
No, not that one.
I'm talking about Supervalu.  Most people don't realize just how large a company Supervalu is.  With $36 billion in revenue, it's a Fortune 100 company, the fourth-largest publicly traded company in the state (behind United Health, Target, and Best Buy), and the third-largest traditional grocer in the nation.  They own Cub Foods in this area, plus Jewel-Osco in Chicago, Albertsons stores on the West Coast, Shaw's and Star Market in New England, Acme in Philadelphia, and national extreme value banner Save-A-Lot  among other retail holdings.  Additionally, they serve a number of independent retailers as a wholesale provider.  In our area, SUPERVALU serves as the primary wholesale supplier to Lunds/Byerlys, Kowalski's, and Coborn's.
In 2006, the company dramatically expanded itself (more than doubling its annual revenue) by purchasing a number of retail banners from Albertsons, taking on $6 billion in debt to do so.  The acquisition fundamentally changed the company from a balanced retail/wholesale company to one that was firmly a retailer.  (Post-acquisition, 80% of the company's revenue came from retail compared to 50% before.)  The acquisition immediately provided a huge burst of increased revenue and earnings, and the company figured they had time to improve operational efficiency, get the new banners in line with competitors from a pricing perspective, and use the expanded footprint to grow wholesale sales.  But as the economy weakened in 2007, and collapsed in 2008 and beyond, that strategy evaporated.
Both lines of business were being challenged.  On the retail side, new entrants into the grocery market were having a real impact.  Walmart and Target were dramatically expanding their grocery footprints, while low-cost alternatives like Aldi and high-end players like Whole Foods were growing rapidly.  Warehouse stores like Costco encouraged people to stock up on basic staples.  Meanwhile, independent retailers that comprised Supervalu's wholesale customer base were squeezed by these changes as well, forcing Supervalu to reduce fees in order to earn a larger slice of a shrinking pie.
In order to pay off the debt, Supervalu couldn't move quickly enough to keep prices in line with its competitors and its market share in key areas like Chicago, Philadelphia, Southern California, and the Twin Cities began to fall.  Now in the seventh year of the post-acquisition world, Supervalu is poised to post its sixth year of declining like-store sales (a "like store" is one that has been open more than one year).
Supervalu Like Store Sales

Fiscal 2007

-1.1%

Fiscal 2008

0.1%

Fiscal 2009

-1.2%

Fiscal 2010

-5.1%

Fiscal 2011

-6.0%

Fiscal 2012

-2.8%

Fiscal 2013 (through Q2)

-4.0%

Data source:  Supervalu press releases
These results predictably have been followed by the usual corporate machinations – shakeups in the executive suite, divestitures of "non-critical" portions of the companies, closing unprofitable stores, and layoffs and benefit cuts for employees.
In addition to the events above, unionized workers at banners and distribution centers nationwide have been forced to deal with the reality of Supervalu's compromised position – taking concessions on pay and work rules designed to give the company more flexibility going forward.  The July announcement of a strategic review by Supervalu's board of directors to include possible sale of the company has accelerated the pace of negative change for Supervalu employees, culminating (for now) in November's announcement of a wage freeze for exempt corporate employees and an ending of the 401(k) match.
While many things have changed in a negative fashion for rank-and-file Supervalu employees, things haven't changed all that much for the senior executives.  Years into the downward spiral, Supervalu executives have yet to make any significant sacrifice despite their inability to change the company's trajectory.  Like no pay cuts.  No conversion of salary into performance-based compensation, either.
Supervalu CEO Pay and Stock Performance

Year
CEO
Total Compensation
Stock Performance
Fiscal 2007
Jeff Noddle
$11.90M
17.7%
Fiscal 2008
Jeff Noddle
$9.38M
-30.4%
Fiscal 2009
Jeff Noddle
$7.45M
-40.5%
Fiscal 2010
Craig Herkert
$10.79M
-2.2%
Fiscal 2011
Craig Herkert
$2.97M
-44.0%
Fiscal 2012
Craig Herkert
$3.80M
-22.2%
Fiscal 2013
Wayne Sales
$6.02M
-61.7%
Total compensation includes stock grants based on value at the end of the fiscal year; FY2013 figure based on stock price as of December 4, 2012.  Does not include partial-year compensation for Noddle (FY10) and Herkert (FY13).Data source:  Supervalu annual reports; Yahoo! Finance historical stock prices
New CEO Wayne Sales – who has been on Supervalu's Board of Directors since the start of the Albertsons mess in 2006 – got a rather remarkable compensation package to take over the reins at the struggling company in July.  At a time when Supervalu employees are being told that the company is free to shirk on its contribution to their retirement, the Board is handing out guaranteed "bonuses" to the new CEO.  Not only that, but after the disastrous first quarter results that caused Herkert's firing, the company spent considerable time and effort re-doing the budget for the remainder of the fiscal year to ensure that the other senior executives still had a chance to earn a bonus for the year.  (Not to mention a couple of years ago, the company kicked many employees off of the bonus plan and gave them meager raises — 1% in most cases — instead.)
Supervalu CEO Wayne Sales Year 1 Compensation

Signing Bonus
$1.2 million
Base Salary
$1.5 million
Guaranteed Bonus
$1 million
Stock Grants
$1.14 million
Guaranteed Compensation
$4.84 million
Bonus Stock
$1.18 million
Total Compensation
$6.02 million
Stock value as of December 4, 2012.Data source:  Supervalu 8-K SEC filing.
Sales will walk away with an amazing payout of nearly $5 million for his first year of work at Supervalu – regardless of the results he produces as CEO.  Sales has the opportunity to earn an additional 447,155 shares of stock as a bonus based on performance – "performance" being defined as keeping the stock at least 50% of its $2.46 value when he took over.  So, if Sales can keep Supervalu's stock above $1.23, he'll guarantee himself at least another $554,000 in bonuses.  Based on where the stock is at as of December 4, 2012 ($2.55 per share), Sales's bonus (for increasing the stock price nine cents over his tenure) would be worth $1.18 million.  That's a quick $6 million for a year's work and a modest nine cent increase in stock price.  One can see why Sales – retired since 2006 – was willing to decamp from Florida to give this a shot.
Why should you care, other than the notion of general fairness?  Because Supervalu is one of the largest mostly union employers in the state (and nationwide, for that matter).  Hourly employees at Cub stores are union, as are the workers at Supervalu's Hopkins distribution center.  A majority of Supervalu's traditional retail banners and distribution centers across the country are also unionized.
For their respective sectors, workers in Supervalu stores and warehouses are well paid and have good benefits packages.  Loss of jobs for Supervalu corporate employees will negatively impact the local economy as well.  A healthy and vibrant Supervalu is good for our community.
What can you do?
Be thoughtful about where you do your grocery shopping.  I'm not going to tell you that you should shop Supervalu stores – it's ultimately your preference, and like any business of that size you can find business practices that are objectionable.  But do consider shopping at a store that doesn't rely on non-union labor and help to preserve jobs in the retail sector that pay a decent wage.  Cub, Rainbow, Kowalski's, Jerry's and Lunds/Byerlys all have union workers in their stores.  Walmart, Target, Aldi, Trader Joe's and Whole Foods are non-union stores.
If you own Supervalu stock, make sure that you vote "No" on next year's "Say on Pay" that you will get as part of your proxy statement for the company's annual meeting (assuming the company hasn't been bought out by then).  While "Say on Pay" is non-binding on the Board of Directors, a "No" vote would send a clear message regarding the direction of the company.
Thanks for your feedback. If we like what you have to say, it may appear in a future post of reader reactions.