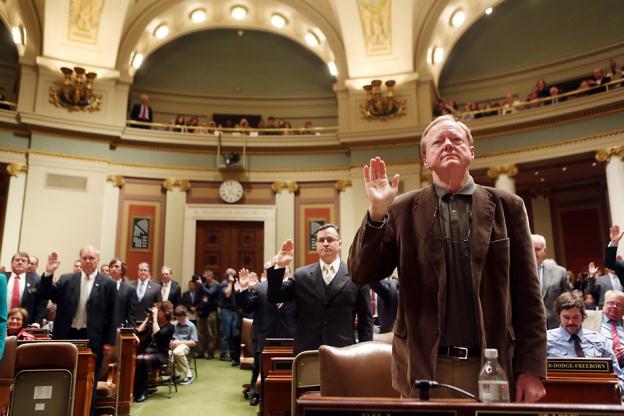 The Weekly Wrap 1-11
We begin this wrap with special election news, times two!
♣ Governor Mark Dayton announced the dates for the special elections taking place to fill the vacated house 14A and 19A seats.
The special elections will take place on February 12th and, if necessary, a primary will take place on January 29th.
♣ In 14A, the seat being left open by Steve Gottwalt, there are at least three GOPers seeking the endorsement, they are; Scott MacHardy, John Severson and Tama Theis. Likewise two DFLers have announced they will seek the endorsement; Joanne Dorsher and Jerry McCarter.
If that last name sounds familiar, Jerry McCarter was the DFLs candidate against Senator John Pederson in November. How'd he do? He lost by just five points is how.
♣ Over in 19A, this happened:
In HD19A, perennial GOP candidate Allen Quist won the Republican party endorsement on the first ballot.
What I find most interesting about this is that Blois refers to Quist as a perennial candidate. I'm not saying he's wrong, but I'm also not so sure he's right… yet. But that's splitting hairs, the important thing to note here is that Allen Quist is running for a seat in the Minnesota House, after just having run for the US House.
These types of "fail-down" moves are rarely made, so it will be interesting to see how it works out for Quist.
♣ Former Republican Senator and Former Democratic Mayor of St. Paul, and current head of the dark money group American Action Network, one Norman Bertram Coleman, Jr., otherwise known as Norm Coleman, said he will not seek a rematch against current Democratic Senator Alan Stuart Franken.
♣ This news is sure to warm the cockles of fellow LeftMNer Steve Timmer. Mr. Timmer's former Representative Keith Downey, has announced his intentions to run for the Chairmanship of the Minnesota Republican Party.
Frankley, Downey is perfect for the job. He's a consultant, which is like a prerequisite to do anything in the Minnesota GOP. And, beyond his being a consultant, he was a strong and early advocate of the US Senate candidacy of Kurt Bills.
So he has both establishment or regular Republican credentials, but not only that, he has not establishment or Liberty Republican credentials. Keith Downey can be like the GOP's John Lennon in this regard, singing "Come Together" to his fractured flock.
Or, and this is more likely, he'll try and implement some ISO 9001 best practices crap and sink the party even further down the drain.
♣ Friend of the LeftMN Radio Hour, and Minnesota Vikings punter Chris Kluwe appeared on the Colbert Report earlier this week.
♣ Fresh off helping Chip Cravaack to a nine point defeat in Novembers election, Ben Golnik has formed a new group called The Minnesota Jobs Coalition to, well, I'll let Ben say it:
With the legislative session only two days old, Minnesotans have already seen an avalanche of tax increase proposals. This group will fight to ensure that the interests of hard-working taxpayers are represented in Saint Paul. The Minnesota Jobs Coalition will engage Minnesotans around the state, encouraging them to let their voices be heard at the Capitol.
So are they about jobs or tax rates? I'm confused, because as we all know there is no connection between employment rates and marginal tax rates.
None.
Zero.
Update from Steve: You really do need to watch Kluwe on Colbert.
Thanks for your feedback. If we like what you have to say, it may appear in a future post of reader reactions.