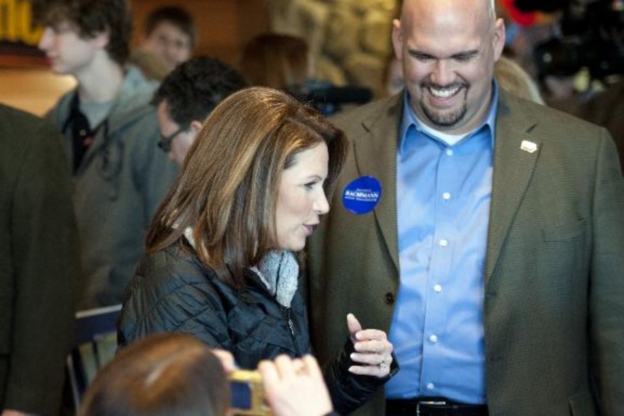 I know, let's get Guy to do it!
Circumvention by any other name
Further Update: There was a story by Diaz in the paper this morning (Sunday, May  5th), too. One of the sidelights to this story to me is the identity of the person or persons who downloaded a mailing list of homeschool parents (clearly Tea Party gold) from someone who worked in the Bachmann campaign office. (There was one homeschooler who supported Bachmann, anyway!) According to the story, the perp has fessed up; he now works for Senator Sorenson. Hmmmm. But the big story remains not the list that was nicked, but rather the circumvention that was accomplished by the Bachmann campaign, now admitted under oath.
– o O o –
There is a Kevin Diaz story in the Strib this morning about Michele Bachmann, Kent Sorenson, Andy Parrish, Guy Short, and a bunch of campaign lawyers. Oh, and Peter Waldron, almost forgot Peter. The story reports that a hearing will be held in Iowa today to decide:
On Wednesday, the Iowa Senate Ethics Committee will determine whether to appoint an investigator to look into alleged payments to Sorenson. Iowa's ethics rules prohibit lawmakers from being paid for their work on presidential campaigns. That inquiry has given rise to questions about whether Bachmann's campaign broke federal campaign finance laws by failing to disclose an estimated $52,500 in compensation for Sorenson, her highest-profile supporter in Iowa.
In recent days, Andy Parrish, a campaign operative for Bachmann in Iowa, and her former purse carrier, has spoken on the subject. Or rather written. In his affidavit, Parrish recounts that in 2011 Bachmann's Iowa campaign wanted to bring Iowa State Senator Kent Sorenson aboard as campaign manager, the best-est Tea Party guy evah, until he wasn't, anyway. But regrettably, the campaign couldn't pay him because of pesky ethics rules in the Iowa Senate.
So, the campaign, Sorenson, and a fellow named Guy Short who was a fundraiser for Bachmann concocted a scheme — because that it was it was — for Sorenson to work for the campaign but be paid by somebody else, perhaps Michele PAC, perhaps somebody else. Recollections are vague:
Bachmann's Patton Boggs legal team, led by Washington attorney Bill McGinley, has said in a statement that Sorenson's ethics case is a dispute "between the Iowa Senate and an Iowa senator," and does not involve Bachmann or her political committees."

McGinley contends that the Parrish affidavit shows Bachmann "followed all applicable laws and ethical rules and instructed those working for her to do the same."

But McGinley also has been careful to use the word "alleged" to describe the arrangement and has stopped well short of confirming the Sorenson payments. Pressed for details, McGinley said in another statement that the facts in the matter, including specifics about communications and interactions, could not be discussed while the review was pending.

This has left Bachmann in the precarious political position of asserting the payments broke no federal laws while declining to acknowledge the payments were made.
This is the goat defense, kids. There is no proof that I own a goat, and besides it didn't eat your cabbages, anyway.
It has a certain self-impeaching quality to it, doesn't it? Anyway, if Sorenson was paid by the campaign, that would have been illegal, and if he was paid by somebody else, it should have been disclosed to, inter alia, the FEC and counted as a campaign contribution. But spokesters are a little vague about that, too.
Which brings us — finally, you say — to the point of this story. There is a near-universal principle in campaign finance law called circumvention. In summary, which is how I know you like this law stuff, kids, circumventions says that you cannot do indirectly that which you cannot do directly. If you are prohibited from making a contribution or a payment yourself, you cannot do it through somebody else as your nominee.
It appears that is exactly what happened here with Sorenson, Guy Short, and the Iowa Bachmann campaign.
Update: The ethics committee decided to proceed with an investigation.
Further update: Kent Sorenson is pretty annoyed with Andy Parrish:
"I was never paid directly or indirectly by Michele PAC or the Bachmann campaign," [by somebody, apparently] read a statement he provided to the Senate ethics committee Wednesday. "Andy Parrish, a gentleman who was removed from the employ of the Bachmann offices due to my sharing of information with the congresswoman, is the only person to attempt to provide contrary information."
I do think the bigger lurking problem for everyone involved is the circumvention problem, discussed above.
Thanks for your feedback. If we like what you have to say, it may appear in a future post of reader reactions.