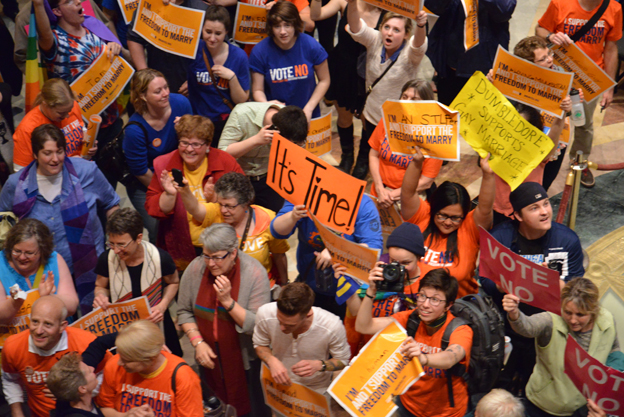 Photos from the Capitol on the historic day of the House vote
Here are some photos from the Capitol yesterday, the day that the House approved the marriage equality amendment 75 – 59.
There were clergy members there who support marriage equality.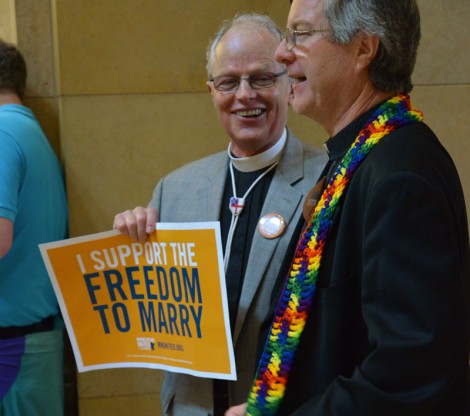 There were some who didn't.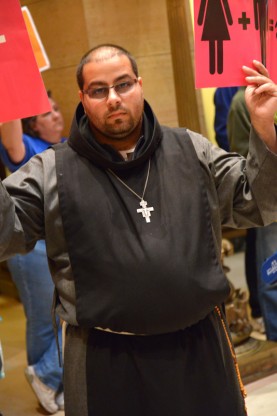 There were kids there who played hookey to make their views known.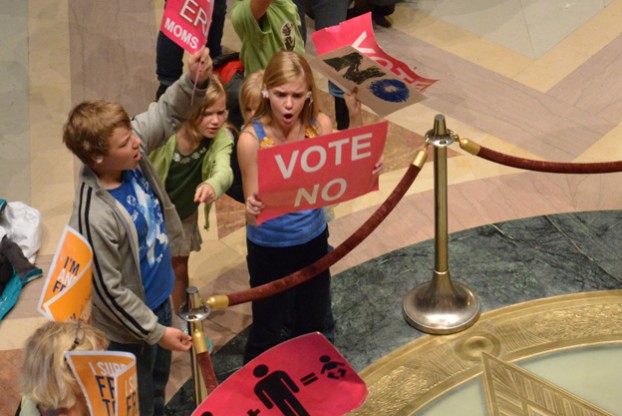 Including some who were maybe too young to even play hookey.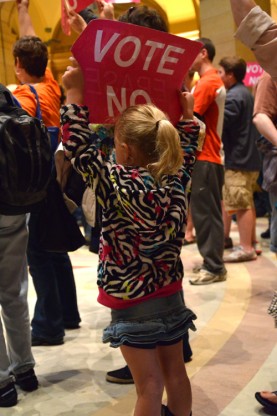 Elevated discussion was had all around the Capitol.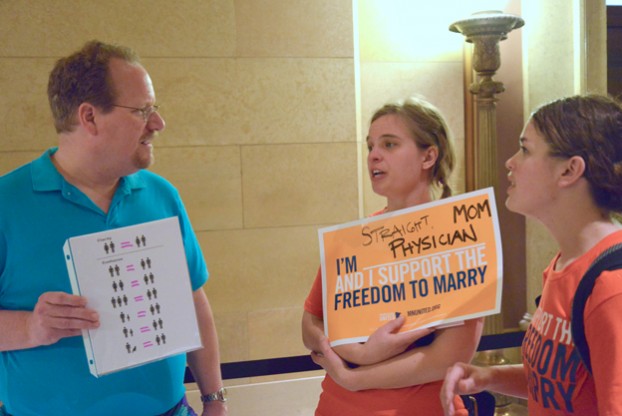 Many veterans of the marriage equality fight were on hand, including Carolyn Jackson, the former legislative coordinator for the ACLU, who played a key role in the defeat of the marriage amendment last fall.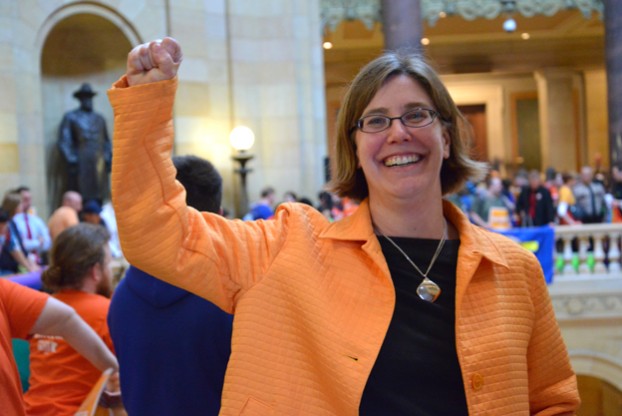 And Lori and Jeff Wilfahrt, who lost their son, Andrew, a gay soldier, in Afghanistan. Jeff is the newest contributor at Left.MN, by the way.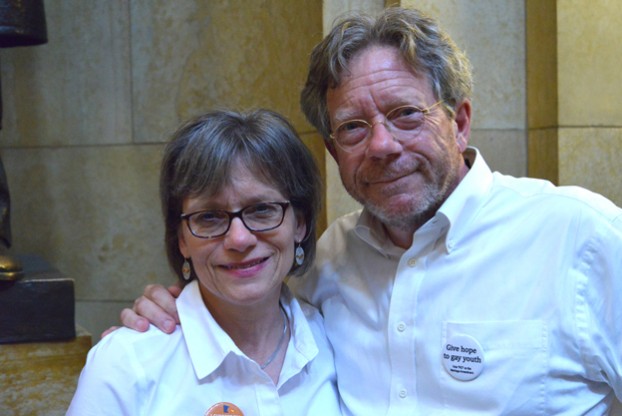 In the House chamber, the debate continued for about three hours. Here's the bill's chief author Karen Clark (somebody gave her flowers for her desk) listening to another legislator.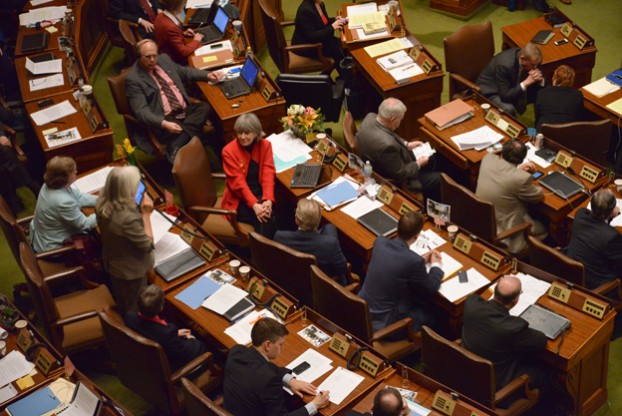 The tension mounted as the vote was called. Here's Javier Morillo-Alicea watching the television monitor outside the chamber; Javier is a member of the board of Minnesotans United.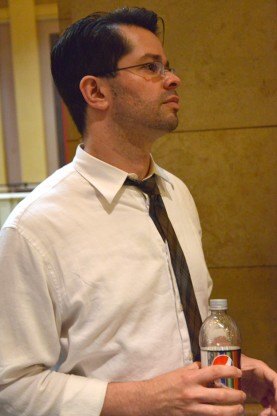 There were lots of smiles all around when the vote was announced.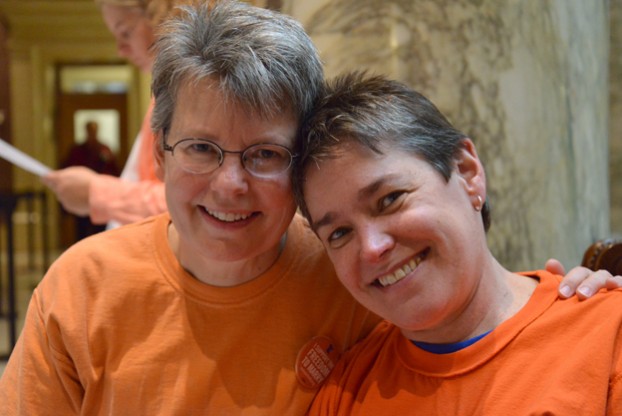 And some happy tears, too.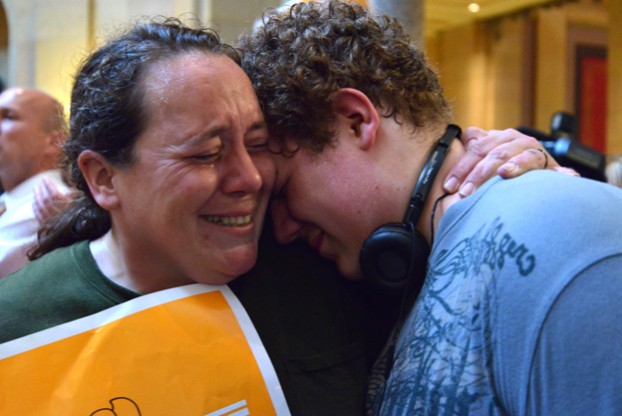 Sen. Scott Dibble, chief author of the marriage equality bill in the Senate, came into the House chamber to escort Karen Clark out.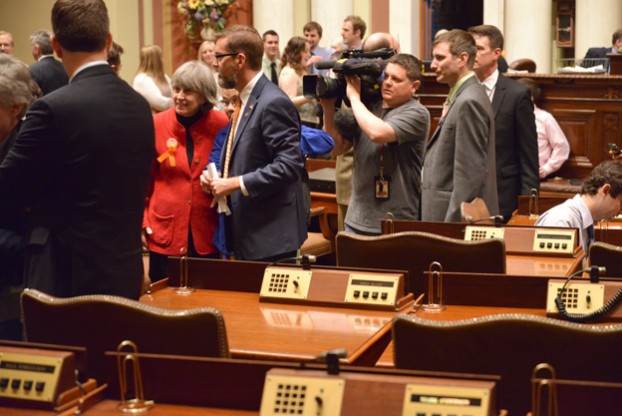 All photos by the author.
Update: A comment from Carolyn Laine (41B House member from Columbia Heights):
The flowers on Karen Clark's desk came from former Speaker of the House Margaret Anderson Kelliher on Wednesday.
I helped Karen get them out of the packaging and she was delighted to read the card. Margaret was in the back of the chamber during the session on Thursday. (As was former Rep. Kate Knuth from our old district.)
Further Update: Here's a comment from Nancy, who is in one of the photos:
Hi Steve…just emailing you to say that the photos you have taken on Thursday are really awesome. Thanks so much. I am in the "lots of smiles" photo with my partner, Jody. We have the orange shirts on, with our heads together. Our friend sent us the link. Very well done!  Nancy and Jody
Thanks for your feedback. If we like what you have to say, it may appear in a future post of reader reactions.