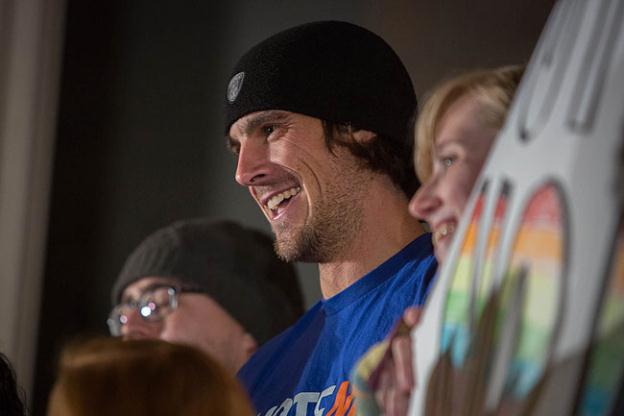 The Weekly Wrap 5-10
♣ The big news was that the Minnesota House passed HF 1054, the Marriage Equality bill on Thursday by a vote of 75-59. About that vote, I tweeted this:
In 2012 51% of MN rejected the anti-marriage amendment. In 2013 56% of the MN House voted for Marriage equality. #mnleg #stribpol #progress

— Tony Petrangelo (@TonyAngelo) May 9, 2013
The Senate will take up the bill on Monday and Governor Dayton has promised to sign it.
♣ Friend of the now defunct LeftMN Radio Hour, coiner of phrases memorable and longtime Minnesota Viking's punter Chris Kluwe was cut by the team on Monday.
In reading his farewell tweet I learned that it was actually possible for me to like him more than I had previously. This is the farewell tweet:
So long, Minnesota, and thanks for all the fish!

— Chris Kluwe (@ChrisWarcraft) May 6, 2013
♣ The pictorial subject of last weeks Wrap, Hennepin County Commissioner Jeff Johnson announced on Sunday that he will be running for Governor in 2014. This comes on the heels of business person Scott Honour announcing his candidacy for the same office.
Here's a taste of the Johnson:
We need a candidate who is actually liked by Minnesotans who do not consider themselves Republicans and who is able to relate to the vast middle class in our state. I am that candidate. Combine this with my solid electoral base in Hennepin County, my roots in Greater Minnesota, my strong fundraising track record and my positive, common sense message, and I will not just run a great race—I'll win.
Johnson then did an interview with MinnPost, so let's see what his common sense message is.
MP: Would you support raising the minimum wage?

JJ: I would not. I wouldn't because I think the main consequence of that is that young people and the least experienced people who are looking for jobs are just going to have fewer options.

When we require them to pay more, generally business owners will either cut costs or raise prices to make up the difference, and cutting costs almost always means laying off employees or cutting hours or not hiring anyone. That's a form of mandate.
Apparently Jeff Johnson is not super versed in common sense economics, so I'll help him out. Our entire economy is built around consumption. When more people have more money to consume, that benefits the whole economy.
Common Sense™!
But wait, there's more.
MP: Would you support increased background checks for gun control?

JJ: I would not. What I would have supported is the compromise bill that Representative Deb Hilstrom came up with. Generally, it strengthened penalties for existing gun laws and it dealt with "straw" purchasers. It cracked down on that. It improved data sharing, so background check databases had more current and accurate information.

We could have done something that was positive with respect to guns and gun violence. My concern is that gun-control advocates, they really focus on restricting the rights of law-abiding gun owners rather than improving the laws we already have.
If I'm to make sense of this, Jeff Johnson's position is that background checks would be "restricting the rights of law-abiding gun owners rather than improving the laws we already have."
Apparently, for a law abiding gun owner, a background check is a restriction of gun rights. The right that is specifically restricted is the right for people who would fail a background check to legally acquire a firearm.
More Common Sense™ from Jeff Johnson, Republican candidate for Governor.
♣ Diane Hofstede, fresh off losing the DFL endorsement for Minneapolis's 3rd Ward, took to the Facebook to share her displeasure with her challenger.
How'd that work out for her?
♣ The NRCC has announced the top seven Democrats they will be targeting in 2014, and Minnesota's own Collin Peterson is among the lucky seven.
Republicans want to make sure the most vulnerable Democrats they've failed to take out in the past don't survive again next year. The National Republican Congressional Committee on Thursday will launch Red Zone, a program aimed at unseating seven elusive House Democratic incumbents who occupy conservative districts. The seven Democrats whom Red Zone will focus on are: John Barrow of Georgia, Jim Matheson of Utah, Ann Kirkpatrick and Ron Barber, both of Arizona, North Carolina's Mike McIntyre, West Virginia's Nick Rahall and Minnesota's Collin Peterson.
Not to question the NRCC, because really, what do I care if they waste money on MN-7, but Collin Peterson is not like some of the other names on this list, in that no one has come close to beating him in like forever.
This post by David Jarman at Daily Kos Elections highlights the most endangered Republicans and Democrats in the US House of Representatives, ordered according to what percent of the vote President Obama got in that person's district. Not surprisingly all seven of these names are in the top ten of endangered Democrats, and the top five consists entirely of people who appear in the NRCC's Red Zone seven.
Below is a selection of Jarman's table, featuring only the seven names on the NRCC list and with the addition of the Reps most recent margin of victory.
| Dist. | Rep. | 2012 % | Cook PVI | Victory Margin |
| --- | --- | --- | --- | --- |
| UT-04 | Jim Matheson | 30.2/67.2 | R+16 |  0.3% |
| WV-03 | Nick Rahall | 32.8/65.0 | R+14 |  8% |
| NC-07 | Mike McIntyre | 39.9/59.2 | R+12 |  0.2% |
| GA-12 | John Barrow | 43.6/55.4 | R+9 |  8% |
| MN-07 | Collin Peterson | 44.1/53.9 | R+6 |  25% |
| AZ-01 | Ann Kirkpatrick | 47.9/50.4 | R+4 |  4% |
| AZ-02 | Ron Barber | 48.4/49.9 | R+3 |  0.8% |
One of these is not like the others.
Of course, as we saw with Jim Oberstar, past performance is no guarantee of future results. It's always possible that the GOP could catch lightning in a bottle with a some dude candidate, like Chip Cravaack in 2010. Unlike Oberstar though, I doubt they catch Peterson asleep at the wheel.
Thanks for your feedback. If we like what you have to say, it may appear in a future post of reader reactions.