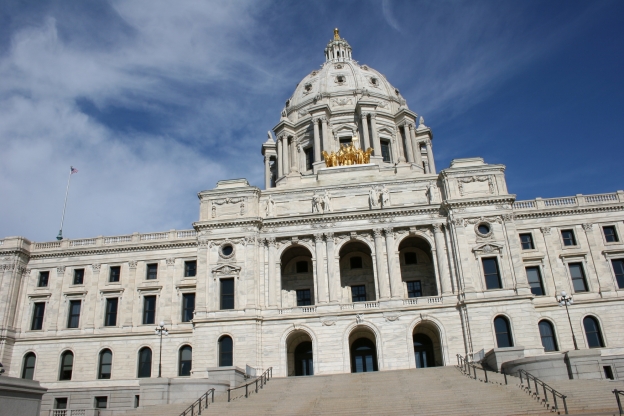 The Minnesota Capitol security picture show
The antics of the "no problems"
Two stills from this video were posted in a story here a few days ago, but the video stands as a much better counterpoint to the claim by the gun aficionados that guns are neither dangerous nor intimidating in the Capitol. That's complete claptrap, of course.
The Minnesota Capitol security hearing picture show from LEFT MN on Vimeo.
The video description at Vimeo:
This is a recap of the August 20th hearing on Minnesota Capitol security, and particularly whether guns should be allowed in the Capitol carried by other than law enforcement people. The people in the maroon shirts were supporters of the Gun Owners Civil Rights Alliance. The Alliance disputes that guns create a dangerous and intimidating environment in the Capitol building.
The supporters of guns in the Capitol, the dramatis personae here, in order of appearance, are Kris Kranz, Lara Croft, Rep.Tony Cornish, Joseph Olson, leader of the Alliance, Andrew Rothman and Sen. Bill Ingebritsen.
Highlights of the video include the posing, prancing Kris Kranz, Andrew Rothman going over to Kranz and telling him to sit down because he was making a spectacle of himself, and the smirking expressions, of Rothman and Cornish, in particular, in response to the testimony of person opposed to guns at the Capitol.
Viewers can also consider the advisability of having armed people sitting or standing around and approving or disapproving the remarks of a legislator or witness.
Music by the Beauhunks, "Good Old Days," from the Spanky and Our Gang series.
Andrew Rothman is Cindy Pugh's pistol instructor. The fellow in the black shirt, Kris Kranz, who wants to be "his own hero," is accustomed to striking poses; he's a model. As Craig Stellmacher says, "Guns are the new black!"
 Update: We've never had a gun incident at the Capitol, says Sen. Bill Ingebritsen. As if that was a reason to permit guns. If there has never been an incident, there is no reason to carry a weapon in the Capitol. Especially when some people seem bound and determined to prance around with them like idiots.
Thanks for your feedback. If we like what you have to say, it may appear in a future post of reader reactions.