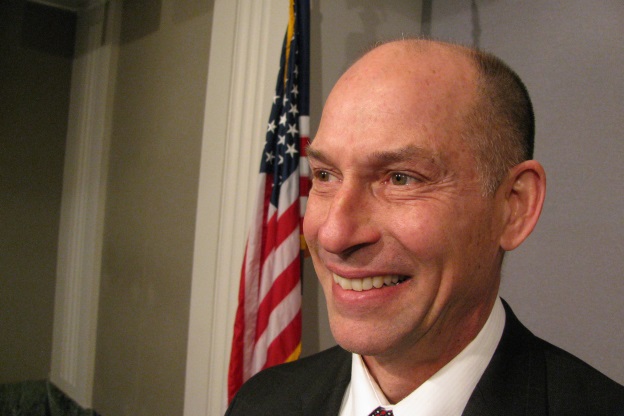 The Weekly Wrap 3-30
The Wrap™ has been off for the last few weeks, taking a break from doing it's wrappy thing. But now it's back, but you know that, because you're reading this post. To make up for the prolonged absence, the Wrap™ would like to present this picture of Julianne Ortman giving Sarah Palin the finger: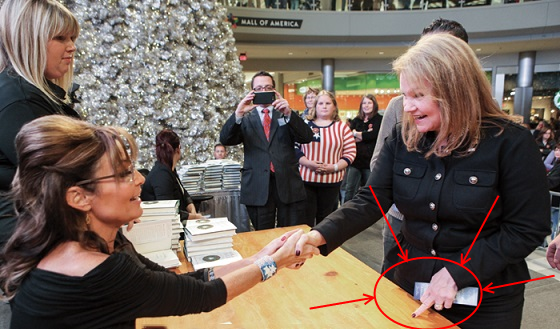 And now, on with the wrapping up of things.
♣ Sarah Palin, American's favorite Grizzly Bear aficionado, has waded into the waters of the Minnesota Senate race to endorse Julianne Ortman, seen above flicking the aforementioned Sarah Palin off. From the endorsement:
Al Franken's career has been a joke; we all know this. The biggest joke of all though is not funny at all because the American people are the punch line. This joke? The fact that Franken has voted 100% (!) of the time with Barack Obama. This just proves what we already knew – Al Franken is a Big Fat Liberal.
Al Franken did vote with President Obama 100% of the time in 2013 (Obama doesn't vote of course, they are going by his public statements on bills). Do you know who else voted with President Obama 100% of the time in 2013? Liberal lions (not really) such as Ben Nelson, Claire McCaskill, Tim Kaine, Bob Casey and our very own Amy Klobuchar.
There were also a number of Republicans who voted with Obama over 50% of the time; Susan Collins (76%), Lisa Murkowski (72%), John McCain (59%), Jeff Flake (56%), Rob Portman (54%), Johnny Isakson (54%), Orrin Hatch (53%), Lindsey Graham (52%), Mark Kirk (51%), Thad Cochran (50%), Kelly Ayotte (50%).
The lowest amount of support for the Presidential position that any Democrat not named Joe Manchin, Mark Prior or Harry Reid (who often votes against his caucus for procedural reasons) had was 96%.
In other words, there just weren't that many things being voted on in the Senate last year, and the things that were voted on had not only the support of Democrats, but often the support of Republicans too.
♣ Also concerning the race for US Senate, American Encore is spending a quarter million to air this ad targeting Al Franken because he hates free speech, if by "he hates free speech," you mean this:
We urge you to protect the legitimate section 501(c)(4) entities by preventing non-conforming organizations that are focused on federal election activities from abusing the tax code
And what's the deal with 501(c)(4)'s?
Politically active nonprofits — principally 501(c)(4)s and 501(c)(6)s — have become a major force in federal elections over the last three cycles. The term "dark money" is often applied to this category of political spender because these groups do not have to disclose the sources of their funding — though a minority do disclose some or all of their donors, by choice or in response to specific circumstances.

These organizations can receive unlimited corporate, individual, or union contributions that they do not have to make public, and though their political activity is supposed to be limited, the IRS — which has jurisdiction over these groups — by and large has done little to enforce those limits. Partly as a result, spending by organizations that do not disclose their donors has increased from less than $5.2 million in 2006 to well over $300 million in the 2012 election.
According to the logic of this ad; "It sure would be nice if dark money political groups were not able to solicit unlimited amounts of money from individuals and businesses" == "I hate free speech."
Alrighty then.
♣ Because an election year in Minnesota just wouldn't be the same without him, Doc "Dan" Severson has announced that he will be seeking the Republican nomination for the position of Secretary of State. Why will this time be different than last time?
"In my 2010 race for S.O.S. we came within 3 points of unseating the incumbent," Severson said. "We won the majority of the counties but lost Hennepin and Ramsey county where immigrant and minority communities make up one out of every four votes. It was a big mistake. We won't do that again."
Translated: In my race for S.O.S. in the biggest Republican year that may ever happen in my political lifetime, I only got 45.6% of the vote. We won in all the places where no people really live. But we lost in all the paces where all the people live. The whole thing was a train wreck, I mean I even made up a new nickname for myself that had absolutely nothing at all to do with a music guy from like forty years ago.
♣ Jennifer Schultz got the DFL endorsement for house district 7A, now occupied by Rep. Tom Huntley who is not seeking re-election.
Schultz is a professor of economics and director of the health care management program at the University of Minnesota Duluth's Labovitz School of Business and Economics.

Her endorsement came Saturday after seven ballots in a competition that included three other candidates: Fire Capt. Pete Johnson, Duluth City Council Member Linda Krug and community organizer Gary Anderson.
♣ Dave Pinto got the DFL endorsement for house district 64B, now occupied by Rep. Michael Paymar who is not seeking re-election.
Dave Pinto, a Ramsey County prosecutor, bested five other DFLers to win the party endorsement to succeed state Rep. Michael Paymar, DFL-St. Paul.

Pinto won the endorsement on the 4th ballot of the 64B District convention. He got the nod outright, taking 61 percent of the votes after several hours of balloting. Pinto said local connections were key.
Thanks for your feedback. If we like what you have to say, it may appear in a future post of reader reactions.