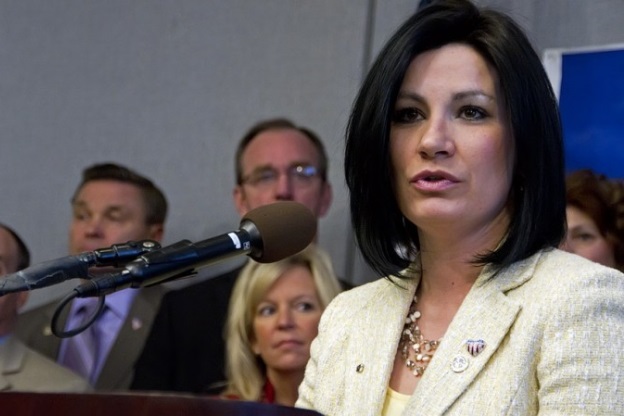 The Weekly Wrap 4-27
♣ Last week US Senate hopeful Mike McFadden continued to build on his burgeoning record of avoiding taking any stands on any issues. This week another Republican running for US Senate, Chris Dahlberg, decided to call him out for that:
"As I've listened to the comments of Mike McFadden during this campaign, I've been stunned by the disregard for the intelligence of the people of this state," Dahlberg said. "He has consistently been unwilling — or unable — to answer even the simplest questions about where he stands on issues."
Dahlberg then went on to take stands on issues, and by taking stands on issues I of course mean not taking stands on issues:
He said that while he is anti-abortion, he did not support so called "personhood" legislation, because it would sidetrack from larger issues.
So he didn't say whether he actually supports idea of personhood legislation or not, just that it would distract from the larger issues.
♣ In a rare move of a legislature adding new rules for itself, the Minnesota House passed legislation on Friday that would require more disclosure:
On a 76-48 vote, the House approved a measure to require lawmakers and other public officials to publicly reveal their areas of business interest and information about their consulting contracts.

Adding teeth to the disclosure, the House moved to require the Minnesota Campaign Finance and Public Disclosure Board to audit those disclosures and power investigate any problems.

Minnesota has long lagged behind other states in what they require public officials to release about their financial interests.While the state does require some financial disclosure, the forms officials file often reveal little that would allow members of the public to assess potential conflicts.
♣ Mike Obermueller won the DFL endorsement to take on second district Rep. John Kline in November:
Former state Rep. Mike Obermueller of Eagan is getting a second chance to unseat Republican U.S. Rep. John Kline in the 2nd Congressional District.

Obermueller, an attorney who lost to Kline in 2012, won the Democratic-Farmer-Labor Party endorsement on the first ballot in a three-way contest Saturday at the party's convention at South St. Paul High School. The other candidates, political newcomers Thomas Craft and Paula Overby, both of Eagan, conceded before the vote tally was announced.
♣ Despite a concerted effort to deny the endorsement to her, Representative Mary Franson won:
Congrats @RepMaryFranson on your endorsement! On to November.

— Matt Dean (@repmattdean) April 26, 2014
♣ Eric Lucero, who got the GOP endorsement for House district 30B over incumbent David FitzSimmons, has received a primary challenge:
Kevin Kasel launched his campaign Tuesday. He will run in the Republican primary for the House District 30B seat against Eric Lucero, a city councilman in nearby Dayton who in February won the GOP endorsement for the seat over state Rep. David FitzSimmons.
♣ Republican Minnesota State Representative Jim Abler, who is running for the GOP Senate nomination against Mike McFadden, Julianne Ortman and other has announced that he won't be seeking re-election to his house seat while he seeks higher office.
Abler won his election in 2012 by a considerable margin, 59-33, over DFLer Andy Hillebregt. There was an Independence candidate in the race as well who got 8 points, but that hardly mattered with Abler pulling in 59%. But while Abler routinely won re-election by large margins, this district is only R+6 according to hPVI, not super competitive, but certainly within the realm of possibility for a DFL pickup.
Thanks for your feedback. If we like what you have to say, it may appear in a future post of reader reactions.