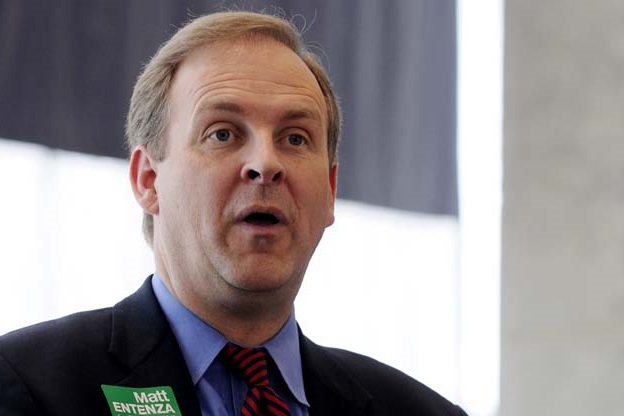 Matt Entenza to challenge Rebecca Otto in August Primary
Matt Entenza, last seen getting 18% of the vote in the 2010 DFL Gubernatorial primary, has filed to run for the office of state Auditor against Rebecca Otto, who was last seen getting endorsed by the DFL in their convention this last weekend and is the two term incumbent state Auditor.
The last time Matt Entenza didn't abide by the DFL endorsement he made it well known ahead of time that he was not going to abide. This time he didn't do that, he waited until the last possible day to file before announcing that he was going to file. And last time he was running for an open seat. This time he is running against, as mentioned previously, a two-term incumbent.
So why would he make this move and why wait until the last minute?
To answer the last part of that question first, since he is running against an incumbent rather than for an open seat, it may be the better choice, strategically, to wait until the last minute to file. You have a better chance of catching your opponent flat-footed and you shorten the window in which the campaign will take place, which somewhat blunts the effect of the DFL endorsement, which is mainly good as an organizing tool.
As far as why, well, only Matt Entenza knows. What he has going for him, to the degree that he has things going for him; in the 2010 Gubernatorial primary the DFL endorsed candidate only got 40% of the vote, meaning 60% went to non-DFL endorsed candidates. And this would be Otto's third term, Mark Ritchie for instance is getting out of the way after two terms.
But I suspect the heart of what Entenza view's as his "path to victory" can be found in the excerpts below from his candidacy announcement (the entirety of which can be found here):
I have decided to take on this challenge to bring our shared progressive DFL values to the office of Auditor.

…

Two of the most important issues we've been fighting for have been the rights of LGBT couples to marry and the right of all Minnesotans to vote without extra burdens being placed on them. These are issues that I have always fought for and issues I have championed as the leader of the DFL House caucus. Currently we have an Auditor who as a Legislator voted to put a constitutional marriage ban to a popular vote and voted for Voter ID.

…

Your support is the only way we can bring our shared progressive DFL values to every office in St. Paul.
As you can see, Matt Enenza is going to run as the "true progressive."
As far as the substance, at least one of the votes that are being referred to above actually happened.
The constitutional amendment to define marriage between one man and one woman, house file 2798, was voted on in March of 2004. Rebecca Otto voted for it and Matt Entenza voted against it.
It may not seem like much, if all Entenza has is how Otto voted on a couple issues ten years ago, but it's also possible he's just setting her up. By trying to run to Otto's left, what Entenza may be doing is attempting to get Otto to run on her Polymet stance to show just how progressive she is. Which Entenza would be hoping gives him an opening in Northern Minnesota. And wouoldn't you know it, this ad appeared on my internet only recently: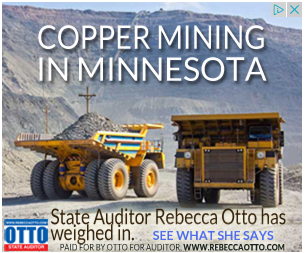 I don't know if that is a direct response to Entenza's entry into the race, but I suspect it will be a big part of her campaign against him going forward. In this way Entenza doesn't even have to mention Polymet in order to make Polymet an issue in this campaign, Otto will seemingly make it an issue for him.
It seems like Matt Entenza will try to win by convincing some progressives, likely a large segment of those voting in the DFL primary, that he is more progressive than Rebecca Otto while also hoping that in the process she alienates herself from DFLers in Northern Minnesota. What's not clear is how that effects the job that he would do, or that Otto has done, as state Auditor.
Will Entenza's gambit work? It doesn't seem likely, but ten weeks is a long time.
As a person who prefers primary elections to convention endorsements as a means of candidate selection, I have no problem with this move from Entenza. Politics ain't beanbag. If, though, you are a person for whom this move upsets them there is something that you can do about it. You can help Rebecca Otto win.
Thanks for your feedback. If we like what you have to say, it may appear in a future post of reader reactions.