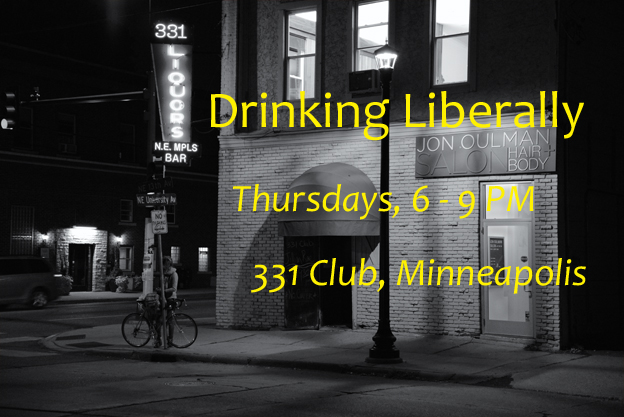 Political Endorsement Night at Drinking Liberally
We know who the police think ought to be the governor; we know who the Chamber of Commerce thinks ought to be a senator. But you know what we don't know?
We don't know who you think ought to be elected to office. So here's your chance. Thursday, October 30th, is Political Endorsement Night at Drinking Liberally. We'll start the endorsements at seven PM. (As always, we start gathering at the 331 Club in Minneapolis at six PM.)
Be as serious or satiric or ironic as you want to be. Ironic entries are especially encouraged. You have one minute, or two if you're really good [in the discretion of the crowd], to tell us what you think.
Drinking Liberally is a progressive — perhaps obviously — organization, but if you have a Republican or Independent candidate who you think deserves a vote, well, let's hear it. Think Green Party Andy Dawkins ought to be Attorney General? Tell us why.
Drinking Liberally is also a friendly crowd — I didn't say respectful, necessarily — but friendly. If you think you have a future in political oratory, this is definitely your chance to find out.
You might even make the highlight reel.
We'll round out the evening with a few words about GOTV, voting, and registration at the polls, and we'll end with the traditional chant of the election protection telephone number.
It ought to be a memorable evening.
Thanks for your feedback. If we like what you have to say, it may appear in a future post of reader reactions.