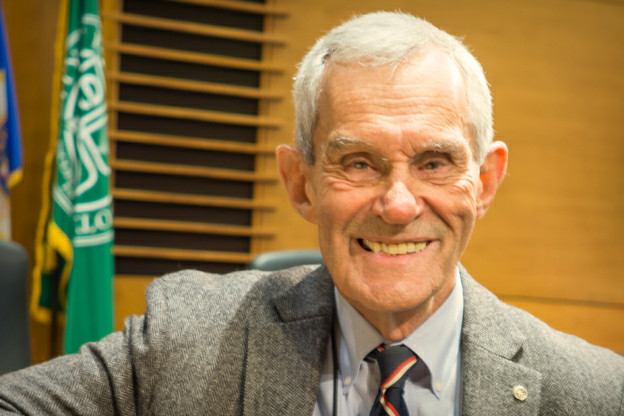 Even the teachers and the flora and fauna
Prefer Ron Erhardt
I have written stories about some of the individual endorsements that Ron Erhardt has received for the DFL endorsement for his House seat at the convention this Saturday, April 16th. Some of them are linked in the box to the right of this story. But Ron has received some impressive institutional endorsements, too.
Ron's two challengers emphasize their commitment to education, but Ron has the endorsement of Education Minnesota.
One of Ron's challengers, especially, emphasizes his commitment to the environment, but Ron has the endorsement of the North Star chapter of the Sierra Club and Conservation Minnesota.
Ron is endorsed by NARAL Pro-Choice Minnesota and Minnesota Planned Parenthood. This should not be an especial surprise; he's had these endorsements for years. Ron was the very last pro-choice Republican in the Minnesota Legislature. When he was a Republican, he bucked his caucus fearlessly on so many things for so many years.
They don't make 'em like Ron anymore, which is why we need to hang on to him as long as we possibly can.
Ron's DFL colleagues in the Minnesota House want him back and have indicated that with their endorsement.
Rep. Erhardt is also backed by the DFL Veterans' Caucus.
He has labor endorsement, too: the AFL-CIO, AFSCME Council 5, the SEIU, MAPE, and, I suppose because of his work on transportation, the United Transportation Union.
Lori Sturdevant, an editorial writer at the Strib, has called Ron Erhardt "the best legislator" at the Capitol, a sentiment that I heartily endorse. Neither of Ron's opponents could articulate to me a reason why Ron should be replaced.
And finally, if anybody has missed it, I've endorsed Ron, with some pretty impressive statistics as to why. If we want to hold this seat, and return Paul Thissen as Speaker of the House, the choice is absolutely clear.
Thanks for your feedback. If we like what you have to say, it may appear in a future post of reader reactions.