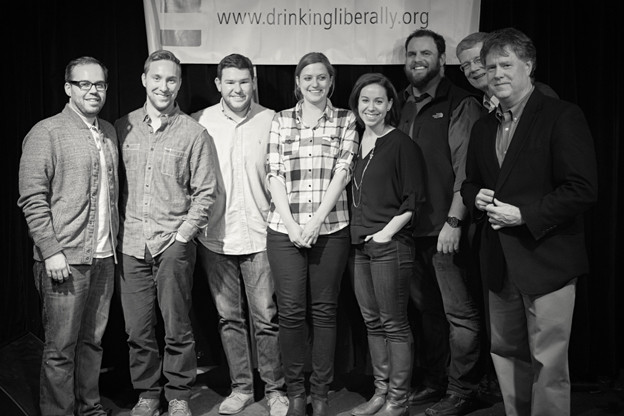 Making the case for mercy
This good-looking bunch are the students and supervisors of the of the federal inmate clemency clinic at the law school at the University of St. Thomas. The clinic was founded by Professor Mark Osler, the speaker at Drinking Liberally in Minneapolis on April 28th.
The clinic at the law school, the first one in the country, was established to help low-level and nonviolent drug offender inmates in the federal system take advantage of a program established by the Obama administration in 2014. The object of the program is to provide some relief and sentencing equity for many thousands of federal inmates sentenced under harsher sentencing guidelines than exist today.
But, as the professor explained, obtaining clemency under the program isn't easy. There are layers and layers of decision-making within the Justice Department, a daunting prospect, even for someone represented by counsel. It is clear that the Obama administration will end with only a fraction of the inmates eligible even having had a chance to present petitions.
Professor Osler contrasted the program with the Ford administration's clemency program for men convicted of draft dodging during the Vietnam war, where thousands of petitions were handled in a relatively short period of time.
The looming question is: what will happen when the Obama presidency is over? Will the program end; will it continue, or perhaps will it even be improved?
Which presidential candidates would likely end the clemency program? Which might continue it, perhaps without much enthusiasm? And which candidate or candidates might improve the program, streamline it, and make sure it available to all who are eligible?
Thanks for your feedback. If we like what you have to say, it may appear in a future post of reader reactions.