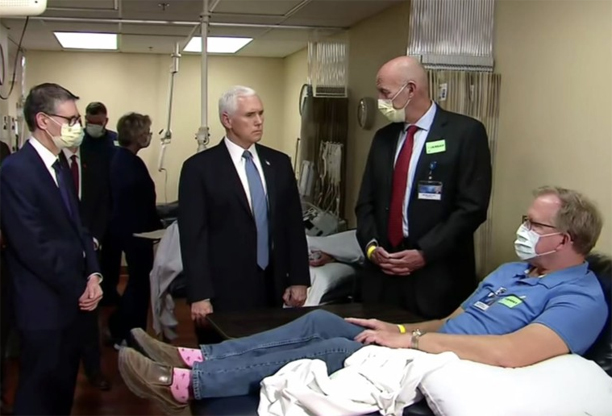 Pandemicus limeratica II
This the second installment of limericks I wrote and published on Twitter. Here's the first installment. Some of them have been edited slightly from the Twitter versions.
On Vice President Mike Pence's visit to the Mayo Clinic recently.
Pence will not wear a mask,
Though Mayo him politely did ask,
…He's much too important
…To censor his deportment,
He needs to be told, "Suit up Jack."
Journalist Dorothy Thompson wrote a scathing article after she interviewed Adolph Hitler. It got her kicked out of Germany. Her description of the person of Hitler was so good — and reminded me of somebody else — that I rearranged some of her adjectives into a limerick.
With a caricatured countenance,
And an air of inconsequence,
…Ill-poised, insecure,
…But by no means demure,
His frame entirely cartilaginous.
The president wants to lay the blame for the virus on China.
Our president; he's clearly been finer,
Corona virus has given him a shiner.
…It has the power to vex,
…And he sure needs a fix,
"I know, let's blame it on Chiner!"
(Let's assume for a moment that the president speaks with a Boston accent.)
In her first presser, the president's fourth press secretary promised never to lie to the press, but then went on to do exactly that multiple times.
In a first for Kayleigh McEnany,
She tried with the press, a hootenanny.
…But she fell on her face,
…In utter disgrace,
The resemblance to Huckabee: uncanny.
On reports that Dr. Fauci, the most trusted person in the administration was prohibited from testifying before a House committee.
Trump is really waxing grouchy,
With his eyes, all glaring and pouchy,
…Whatever can he do,
…Save blather and stew?
Ah yes, he can muzzle Dr. Fauci.
Christi Grimm, the Acting Inspector General of the Department of Health and Human Services, wrote a scathing report on the miserable state of preparedness of the federal government to meet the pandemic. Trump appointed a lackey to replace Grimm and announced it on a Friday afternoon. Christi Grimm is a civil servant, though; she was Acting Inspector General because the post was open, as many administration posts are. So she is still there, looking out for us, but she's been deprived of her public voice.
The president has tossed Christi Grimm,
Her report? He took on the chin,
…She don't make him look good,
…As an apparatchik should,
So he chucked her after hours in the dustbin.
On the occasion of Trump's whining interview on Fox News at the Lincoln Memorial, where he, an obvious clueless twit, stated he'd been treated worse than the assassinated Abraham Lincoln.
It did take a pair made of brass,
And it was rather exceedingly crass,
…But we've come to expect it,
…From a president so counterfeit;
Donnie's not fit to wipe Lincoln's ass.
A security guard was shot and killed in Michigan when he asked a woman to don a face mask. A little dark for a limerick, I admit.
The lady did not don a mask,
The guard took her to task,
…The cloth filled her with dread,
…The guard? Shot in the head,
That will teach him never to ask.
The Dorr brothers, who hail from Ocheyedan, Iowa (in Osceola County, which has the highest point in the state!), have made a cottage-industry grift of siphoning money off from more institutional grifters in the fields of gun ownership and anti-abortion politics. It annoys Rob Doar, who runs a another gun owners' group in Minnesota. The Brothers Dorr were behind many of the anti-stay-at-home protests and near riots in several states, including Minnesota and Michigan.
Gunslingers hate sharing a grift,
Recently, it's caused quite a rift,
…Doar says of the Dorr,
…"They're sons of a whore!
"There's no way; we can't coexist."
This is really just a second verse of the limerick send-up of Dorothy Thompson's description of Adolph Hitler, above. These are my words, but I think they have her spirit.
Donald the orange, oleaginous,
His mien? Increasingly preposterous.
…"For the re-election my,"
…He says, "Live and let die,"
But to us, it just seems vainglorious.
Katherine Kersten, the greatest scold that Ft. Dodge, Iowa has ever produced, wrote a bilious bag of hot air about people recovering their courage and getting back to work that was, regrettably, published in the Strib. I wrote two limericks about that, and I left a lot of material on the cutting room floor. I am sure there are a lot of ICU nurses and docs who would love to visit with Kersten.
It's only the old who'll die, doncha know?
And some youngsters, too, we will throw.
…They'll die for the Dow,
…And their complaints? Disallow!
To Katherine, it's all apropos.
In Kersten's make-believe space,
False bravado is not out of place,
…She can crow with élan,
…And not lift a bedpan,
Those who do? She'll never face.
And now, John Rouleau, who tweet bellows that Governor Tim Walz is "moving the goal posts" on lifting the shelter at home order, even as hospitalizations, ICU usage, and deaths from Corvid-19 accelerate. Rouleau is the executive director of an astro-turf organization, the Minnesota Jobs Coalition, although as far as I can tell, the only job it has ever produced is John's own.
Consider the fellow named RoLo,
Really: R.P.M. mafioso,
…His virus advice
…Could cost you your life,
Reject what he says in toto.
And lastly, for now, anyway, word comes out that the virus has infiltrated the White House.
The virus has breached the Citadel,
And left some functionaries unwell,
…All concerned will be cross,
…If it catches the Boss,
To the virus, it's cuisine novelle.
Thanks for your feedback. If we like what you have to say, it may appear in a future post of reader reactions.