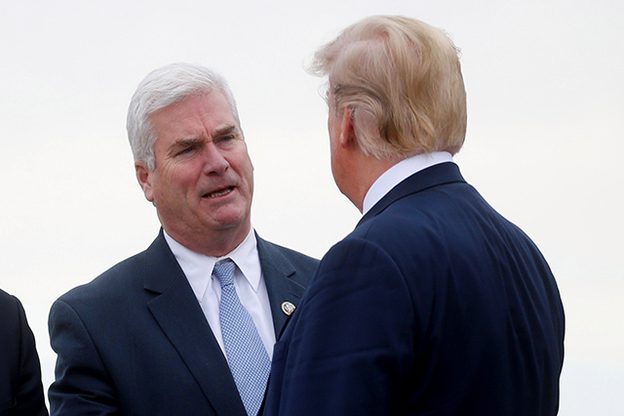 Why is Emmer's the only Minnesota name backing the Trumper sedition? – UpdateX2
I'm referring to the lawsuit currently before the United States Supreme Court, asking them to throw out the election results in four states and essentially install Trump as dictator-for-life. SCOTUS will in all likelihood swat it away, perhaps as soon as this (Friday) morning. 106 members of the U.S. House of Representatives signed on to a brief in support. The only House member from Minnesota to do so is Rep. Tom Emmer.
In Emmer's case, it's not hard to guess why his name is on there:
– He and Trump are, emotionally and "intellectually," "bros." That is, both are crude, obnoxious, classless, bullying assholes. Which regrettably tends to be grounds for male bonding, of a sort, in all kinds of contexts.
– Rep. Emmer was in charge of getting Republicans elected to the House, this cycle. Unfortunately he has reasons to be on an emotional high, these days.
– Mostly, though, I think it has to do with what's coming. It's redistricting time. The betting for a long time has been that Minnesota will lose a House district. With a split legislature Minnesota's state Supreme Court will presumably end up drawing the new districts, after the census results are released. If you look at the current map, Emmer's district, MN-06, would seem to be an obvious candidate to simply be carved up and its remnants distributed among its surroundings. Which would leave Rep. Emmer in search of something new. Being able to point to total loyalty to Trump, under newly precarious political circumstances, is something he'd be glad to do.
As for why other names aren't on the brief:
– I live in MN-08, and "my" representative, Pete Stauber, is in fact less extreme than your standard House Republican, these days. Actually, between us, while because of his overall agenda and ideology I hate seeing him in Congress, I'll go so far as to acknowledge that personally he's probably not a bad guy.
– Which is not something I'd say about Emmer, or about Rep. Jim Hagedorn. That said, in the latter case for very unfortunate reasons 2020 was likely his last electoral go-round, and he perhaps just doesn't see any point in getting involved in something like this.
– Rep.-elect Michelle Fischbach isn't officially a U.S. Congresswoman, yet. I don't have enough of a read on her, to claim to know whether she'd have signed on, if she was. (Sat. AM – I've since seen that she's also been running her mouth about "voter fraud," etc. Which I suppose is a good indicator of how she plans to behave once her term starts.)
Update: Well, well. Pete Stauber is a deranged, seditious asshole, too, after all.
UpdateX2: Hagedorn is now claiming that he meant to be on the list all along, too.
Comment from Mac Hall: The Amicus Curiae brief filed by Tom Emmer and 105 other Members of Congress complains that only State legislatures can enact changes, but in Texas, Governor Abbott directed changes (i.e. one drop box per county) without legislative approval … yet, there is no request to the Supreme Court to have Texas and other States that took similar steps to be thrown out (admittedly, Texas would still go to Trump, but if the legal purpose is to ensure equality shouldn't SCOTUS consider all States actions ?
In Minnesota, it appears that the State legislature did take action (H.F.No. 3429) yet there was still a court challenge resulting in the U.S. 8th Circuit Court of Appeals ruling that the deadline extension was an unconstitutional maneuver by the state's top election official … not sure if those ballots were ever counted … but I would not be surprised if Emmer could not find other actions to have Minnesota's Electoral College votes be determined by the MN legislature. Think about that … would the State House of Representatives and State Senate have to agree on who to designate as electors ?
Are we to think that Arizona did not have any actions taken without their state legislature approval … yet, they are not in the filing. What about New Mexico … where the Democrats control the state legislature ?
Ohio's Attorney General is an interesting character … Dave Yost filed a brief in an earlier US Supreme Court case arguing that the Pennsylvania's Supreme Court had made errors in how it ruled when absentee ballots could be accepted … now he has filed another brief arguing that Texas is wrong to file this case.
I gotta think that Yost must just be tired of this mess and just wants it to end.
Regarding Stauber and Hagedorn not signing it, I wonder if that will cause any primary challengers … after all, some have already signed a letter asking for Minnesota to join the suit
Representative Steve Drazkowski District 21B
Minnesota House of Representatives
Senator Mary Kiffmeyer District 30
Minnesota Senate
Representative Jeremy Munson District 23B
Minnesota House of Representatives
Senator Mike Goggin
District 21
Minnesota Senate
Representative Tim Miller
District 17A
Minnesota House of Representatives
Senator Andrew Mathews
District 15
Minnesota Senate
Representative Cal Bahr
District 31B
Minnesota House of Representatives
Senator Mark Koran
District 32
Minnesota Senate
Representative Eric Lucero
District 30B
Minnesota House of Representatives
Senator Bill Weber
District 22
Minnesota Senate
Representative Mary Franson
District 8B
Minnesota House of Representatives
Senator John Jasinski
District 24
Minnesota Senate
Representative Glenn Gruenhagen
District 18B
Minnesota House of Representatives
Senator Rich Draheim
District 20
Minnesota Senate
Representative Shane Mekeland
District 15B
Minnesota House of Representatives
Reply from Dan Burns: I strongly suspect that's why Stauber did sign, after all. I think he was in fact a latecomer, and I don't believe the "left off due to a clerical error" BS.
Reply from Dan Burns: I should probably have put more emphasis on what this references, too.
GOP Hill staffer texted me the below. Works for one of the 106 Congressmen trying to overturn the election. pic.twitter.com/lBfAeUaIZb

— Miles Taylor (@MilesTaylorUSA) December 11, 2020
Thanks for your feedback. If we like what you have to say, it may appear in a future post of reader reactions.