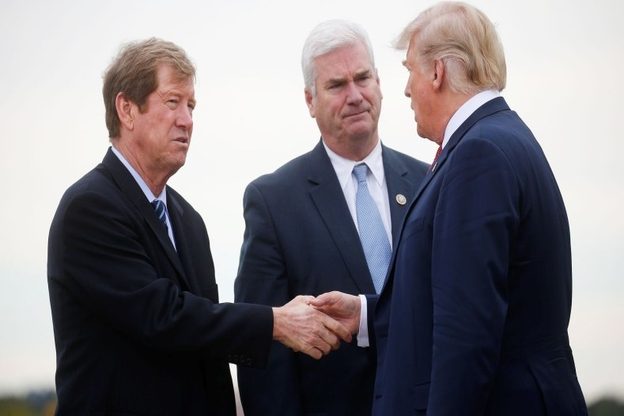 A Minnesota Congressman is in over his head
Big surprise:
The National Republican Congressional Committee, which is the official campaign arm of the House GOP, has gotten lacerated in recent weeks over its chaotic PR efforts and shabby fundraising—so much so that a nasty dispute burst into the open between committee chair Tom Emmer and Wyoming Rep. Liz Cheney, the third-ranking Republican in the House.

That was last week. This week, the knives are out for Emmer, and they are so very, very sharp.
(Daily Kos)
What especially caught my attention in that article (from one of the blockquotes) is "That is also affecting attitudes toward (House Minority Leader) Kevin (McCarthy), as Tom was his hand-picked guy." Why would a – let's face it – lout like Tom Emmer, who I assure you isn't a damn bit brighter than he looks, be anyone's pick for a position presumably intended for a rising GOP star? Do Rep. McCarthy and his buddies really think Emmer is – or at least was, up to a relatively short time ago – that?
For me, and a lot of other people as well, it's taken for granted that if you get a job like Rep. Emmer got, the first thing you do is hire people with proven track records in management and fundraising, to do the actual work. Maybe he did do that, but the evidence certainly seems to indicate otherwise. (I suppose it's possible that he inherited a lot of dead weight that he can't just cut loose. Though I doubt that, too.)
I did a search of "why was tom emmer picked to run the nrcc?" and this is from the most relevant thing I found on the first couple of pages (from last November):
Less than a week after losing over 30 seats in the House, the chamber's Republicans have coalesced around the next person to lead their campaign committee.

Minnesota Rep. Tom Emmer is running unopposed Wednesday to be the next chairman of the National Republican Congressional Committee, replacing Ohio Rep. Steve Stivers. Along with California Rep. Mimi Walters, whose race has not yet been called, Emmer was one of two deputy NRCC chairs during the 2018 cycle.
(Roll Call)
So, I guess it was that he was already a deputy chair, and no one else had his or her heart set on the job. And the GOP has been rewarded with the sort of job performance it deserves, if that's all it took for them to put Tom Emmer in charge of trying to win in 2020. Looks good to me.
Addendum – Comment from Mac Hall: Quick question … was Erik Paulsen ever a NRCC vice-chair ? I don't think so … and I guess that he was smart enough to avoid these thankless tasks.
Emmer has shrunk the number of vice chairs from 15 to 8 (eliminating such interesting ones as Redistricting, Data, and Digital).
Stivers had the job of being the "face" of the campaign party for the media … and can you think of anyone better than Tom Emmer to be that "face" today — a 58 year old white man with white hair … from the Midwest … and representing a "safe" district previously represented by Michele Bachmann. BTW … the article mentions that Mimi Walters race had not been called when Emmer was announced … well, she lost to Katie Porter.
For Emmer, this gives him a greater exposure throughout the country … picking up a lot of cash for his personal leadership PAC – Electing Majority Making Effective Republicans – setting him up for a potential Senate or VP slot.
Thanks for your feedback. If we like what you have to say, it may appear in a future post of reader reactions.