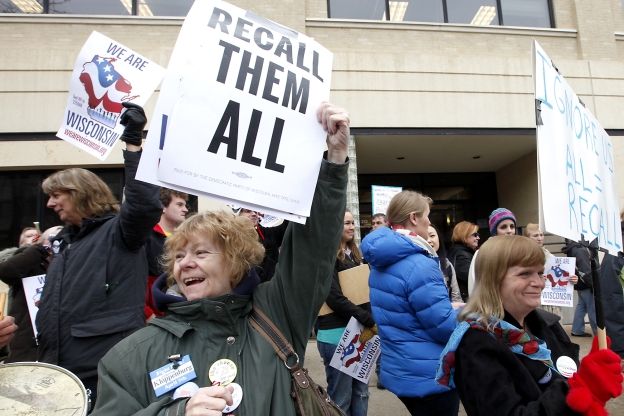 Final Wisconsin Polling Roundup
The Wisconsin recall elections are tonight and a flurry of polls have been released in the last few days, so let's get to it.
On Monday We Ask America, who has consistently had the most favorable numbers for Scott Walker, released this:
We Ask America (6/4, 5/24 in parenthesis, 5/14 in brackets):
Scott Walker (R-inc) 54 (54) [52]
Tom Barrett (D) 42 (42) [43]
Undecided 4 (5) [4]
(MoE: ±2.5%)
The day before that brought this poll from Public Policy Polling:
PPP (6/3, 5/15 in parenthesis, 4/16 in brackets):
Scott Walker (R-inc) 50 (50) [50]
Tom Barrett (D) 47 (45) [45]
Undecided 3 (3) [3]
(MoE: ±2.8%)
While it's a good sign that Tom Barrett has ticked up two points, that can at least somewhat be explained by the absence from this poll, as opposed to previous PPP polls, of Hari Trivedi, an independent candidate in the race who's name will appear on the ballot.
In PPP's two previous polls Trivedi was getting 2% support, the same as the amount of increase in Barrett's share. This means it's impossible to actually draw a trend line from these numbers, even though I'm presenting them that way. Scott Walker is still stuck at 50% though, certainly not a bad place to be, but at least he's not pulling ahead further.
There was an online survey by Angus-Reid that was also released on Sunday:
Angus-Reid (6/3, no trend lines):
Scott Walker (R-inc) 51
Tom Barrett (D) 46
Undecided 3
(MoE: ±4.3%)
And last week we got word of yet more internal Barrett campaign numbers:
Garin-Hart_Yang (6/3, no trend lines):
Scott Walker (R-inc) 48
Tom Barrett (D) 48
Undecided 4
(MoE: ±4%)
And here is the final polling average:
If you've been following along you'll know that the average has been right around 51%-46% since I started it. I've even limited the sample to the polls released in the last two weeks and nothing changes. There are some polls, all of them Democratic internal polls, that show a tightening race, but all of the public polls, except maybe PPP's, dispute this assertion.
David Nir over at Daily Kos Elections makes an excellent point about the race however:
It's worth noting that like all other pollsters, PPP's last 2010 poll of this race, which also pitted Walker against Barrett when this seat was open, overstated Walker's leader: They had Walker winning by nine when he actually won by just five.
In 2010 the final polling average overstated Scott Walkers victory by 3 points, the final polling average came in at 8.7%, and his margin was 5.7%. If we were to apply a 3 point bonus to Tom Barrett that would suddenly make the race a lot closer, but Scott Walker still would be favored.
If you don't have to work today, running over the border to help out would certainly be noble work because Tom Barrett is going to need lots of help to pull this thing out. The DFL is helping out by busing people out to Wisconsin to knock on doors. Election day is today, there is no tomorrow.
Thanks for your feedback. If we like what you have to say, it may appear in a future post of reader reactions.