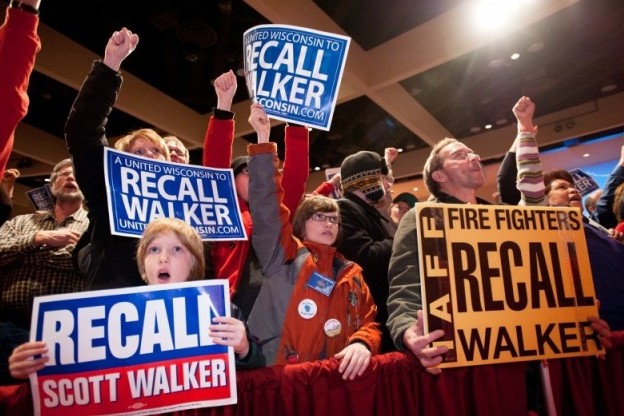 Wisconsin Recall Election Live Blog
The polls have now closed and I'll be live blogging the Wisconsin recall elections here. This is the link to the AP's results page if you would like to follow along.
There are six recall elections in total for Governor, Lt. Governor, and four state Senate seats in districts 13, 21, 23 and 29. The headline race of course is between Scott Walker and Tom Barrett for Governor. I put up a post this morning rounding up all the polls of the race, the short version, Scott Walker is a slight favorite. Let's hope I'm wrong.
[9:27] Ugh. Democrats lose everything… the horror, the horror.
[9:06] And the race has been called for Walker.
[9:05] None of the reporting is final yet, but Barrett so far is under performing in almost every county. Not a good sign.
[8:55] Republicans are also up in all three Senate races with results so far (although the only one Democrats really had a chance in hasn't reported anything yet) and the Lt. Governor's race.
[8:52] With 19% reporting Walker is out to a huge 61-39 lead. We're still not seeing any votes from Milwaukee county though.
[8:42] That big lead for Walker is because Waukesha county is reporting and Milwaukee still isn't.
[8:22] Results are just starting to trickle in and CNN is reporting that their exit polls show a 50-50 result.
Here's a spreadsheet, data courtesy of Daily Kos Elections, that I will keep updated:
Thanks for your feedback. If we like what you have to say, it may appear in a future post of reader reactions.