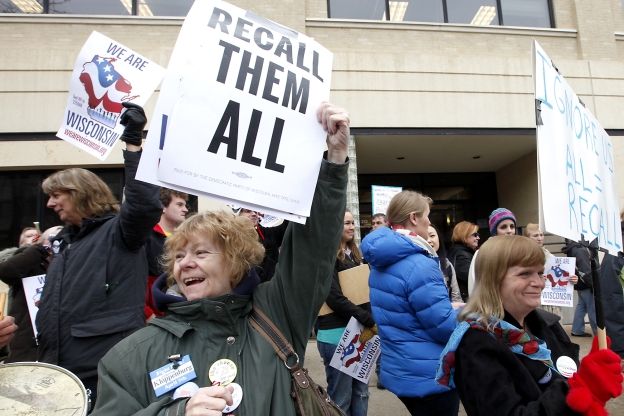 Another day, another three (!) Wisconsin recall polls
Three more polls of the Gubernatorial recall in Wisconsin came out yesterday, after I had already published a post about five other polls that had come out in the previous couple of weeks.
There was an internal poll for Tom Barrett.
Garin Hart Yang (5/24, no trend lines):
Scott Walker (R-inc) 50
Tom Barrett (D) 48
Undecided 2
(MoE: ±3.9%)
A poll from Reason-Rupe, whom I've not heard of before, this is from their About page:
Reason is the monthly print magazine of "free minds and free markets." It covers politics, culture, and ideas through a provocative mix of news, analysis, commentary, and reviews. Reason provides a refreshing alternative to right-wing and left-wing opinion magazines by making a principled case for liberty and individual choice in all areas of human activity.
Reason-Rupe (5/24, no trend lines):
Scott Walker (R-inc) 50
Tom Barrett (D) 42
Undecided 6
(MoE: ±4%)
And the second poll in ten days from Republican affiliated pollster, We Ask America.
We Ask America (5/24, 5/14 in parenthesis):
Scott Walker (R-inc) 54 (52)
Tom Barrett (D) 42 (43)
Undecided 5 (4)
(MoE: ±2.6%)
That makes eight polls in two weeks and they are all pretty much in agreement. The average of the five polls from my post yesterday was 50%-45% Walker – Barrett and when you add in these three polls the average moves ever so slightly to 51%-45%.
If you want to help you can contribute to, or volunteer for Tom Barrett.
Thanks for your feedback. If we like what you have to say, it may appear in a future post of reader reactions.