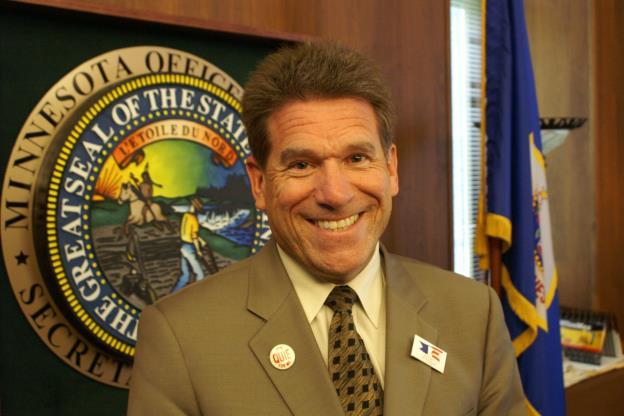 The Weekly Wrap 6-8
There was a lot of electiony news this week, a year and a half out from the election. So let's get to it!
♣ The big news last week was the announcement, by Representative Michele Bachmann that she would not be running for re-election in 2014. This set off a chain reaction that resulted in Republicans trampling a path into the race and Democrats trampling one out of the race.
This week there was more Republican trampling. Tom Emmer, the Republicans 2010 Gubanatorial nominee and current AM morning show host, announced that he will run for the seat.
As he indicates in the announcement video, God is already telling Emmer to shut up.
In addition to former Representative Emmer, Senator John Pederson announced that he is forming an exploratory committee to search for unearthed oil deposits… or rather, to look for a northwest passage… or more likely, to raise money for a sixth district run, without actually formally announcing a sixth district run.
In last weeks Wrap I made a list of possible candidates, that I will now update:
Tom Emmer – running
John Pederson – like Dora, is explorin'
Phil Krinkie
Rep. Matt Dean
Rhonda Sivarajah
Pat Shortridge
Rep. Tim Sanders
Sen. Mary Kiffmeyer
Pete Hegseth
Amy Koch
Rep. Peggy Scott
Sen. Michelle Benson
♣ Staying on the Congressional race front, Stewart Mills, of the Mills Fleet Farm Mills, has indicated an interest in challenging freshman eighth district Congressman Rick Nolan in 2014.
♣ In a move that was expected, Secretary of State Mark Ritchie announced that he will not seek re-election in 2014. And like with the sixth district, it didn't take long for a bunch of names to float to the surface as possible candidates.
One person, former Hennepin county elections official Rachel Larson Bohman, has already launched her campaign. You may remember Rachel from her work as the head Anoka County elections person during the Franken-Coleman recount. Here she is discussing the recount, retrospectively.
Another person who sounds interested, although like Pederson is going the Dora route:
Sec. Ritchie leaves big shoes to fill; I am humbled and excited to explore a campaign to serve as MN's next Sec. of State.

— Jeremy Kalin (@JeremyKalin) June 4, 2013
A few other DFLers who have been mentioned:
Rep. Steve Simon
Rep. Ryan Winkler
Sen. Roger Reinert
Rep. Pat Garofalo
Rep. Joyce Peppin
Sen. Warren Limmer
Kent Kaiser
Thanks for your feedback. If we like what you have to say, it may appear in a future post of reader reactions.