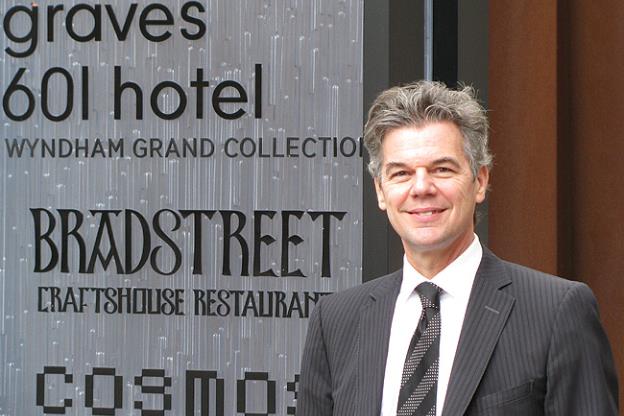 The Weekly Wrap 6-1
♣ The big news this week involved our not soon enough to be former Sixth Congressional District Representative Michele Bachmann.
A thing about that with which I've still been thinking; why did she recently run television ads touting her Obamacare repeal bill passing the house? That ad buy seemed a little curious at the time and only more so now.
When her campaign made the ad buy, either she knew she was going to announce her retirement, or she didn't. If she didn't know, then the question arises, what was it in the time since those ads were made that caused Bachmann to change her mind?
But what if she did know she was going to retire? In that context the ads make even less sense.
♣ Almost as soon as the news came out about Michele Bachmann's pending retirement, the floodgates of Republicans with interest in the seat opened. At this point, it might be easier to list the Republicans who have demurred, as it seems like almost every single GOPer in the sixth district is interested in this race.
Tom Emmer issued a statement saying he's in discussions with his family and friends about launching a campaign for Congress in #mn06.

— tomscheck (@tomscheck) May 29, 2013
. @timsandersmn on #mn06: "I'm certainly willing to give thought to it. These opportunities don't really coming around all that often."

— Brian Bakst (@Stowydad) May 29, 2013
Got a "possible" from Mary Kiffmyer on running for Bachman seat.

— Cyndy Brucato (@cyndybrucato) May 29, 2013
Seifert running mate in 2010 RT @pdemo Anoka County Commissioner Rhonda Sivarajah also confirms that she'sconsidering the 6 CD contest.

— Briana Bierschbach (@bbierschbach) May 29, 2013
Former GOP Rep. Phil Krinkie, current chair of Taxpayers League, is considering an #mn06 run. "I still have my lawn signs" from 2006 bid.

— tomscheck (@tomscheck) May 29, 2013
. @repmattdean, a former House majority leader, says he's inclined to run for #mn06. "very likely I'll have an announcement coming soon"

— Brian Bakst (@Stowydad) May 29, 2013
GOP state Rep. Peggy Scott is considering a run for Congress in #mn6. She said she'll speak with her family about a run and decide later.

— tomscheck (@tomscheck) May 29, 2013
Pete Hegseth, who sought GOP endorsement against Klobuchar, said he's "taking a look at" a #mn06 run. Again, will talk over with family.

— Devin Henry (@dhenry) May 29, 2013
GOP Sen. Michelle Benson says she's considering a run for #mn6. "Opportunities like this come every 10 or 20 years & deserve consideration"

— tomscheck (@tomscheck) May 29, 2013
If you prefer list form:
Tom Emmer
Phil Krinkie
Rep. Peggy Scott
Sen. Michelle Benson
Rep. Matt Dean
Rep. Tim Sanders
Sen. Mary Kiffmeyer
Rhonda Sivarajah
Pete Hegseth
A tweet concerning one of the names on the above list, and all the other names as well if the tweeter is correct:
If @tomemmer runs…he would likely clear the field…Wright County has huge impact on endorsement & general election. (Corrected tweet)

— Michael Brodkorb (@mbrodkorb) May 29, 2013
♣ While Republicans were busy piling into the now open seat race, Democrats were busy getting out, well, one Democrat specifically. Jim Graves announced that he will be suspending his campaign in the wake of Michele Bachmann's retirement announcement.
This week, we learned that we succeeded. We set out to defeat Rep. Bachmann, and that has been accomplished. You should feel incredibly proud. After all, it was the grassroots movement you built that kept the pressure on and forced Rep. Bachmann from her seat in Congress.

I'll never be able to thank you enough for being part of this team. But after struggling with this decision – agonizing over it with my friends, supporters and family, I've decided to suspend my campaign indefinitely.
I don't mean to give Jim Graves too much flack, he took on a tough challenge last cycle for a political newcomer and almost succeeded.
But in the immediate aftermath of Bachmann's retirement announcement, Graves stressed the fact the he was running for the people of Minnesota's sixth district, not against Michele Bachmann.
Yet one day later he claims victory because she retired. You can't have it both ways. In the end though, what was he going to do? His chances of victory decreased dramatically with Bachmann's announcement and he didn't get to be a successful business person by doing tilting at windmails.
And while I know that Bachmann retiring is satisfying for many liberals, I'm not so sure this is the outcome that liberals should have wanted. Examine the following image: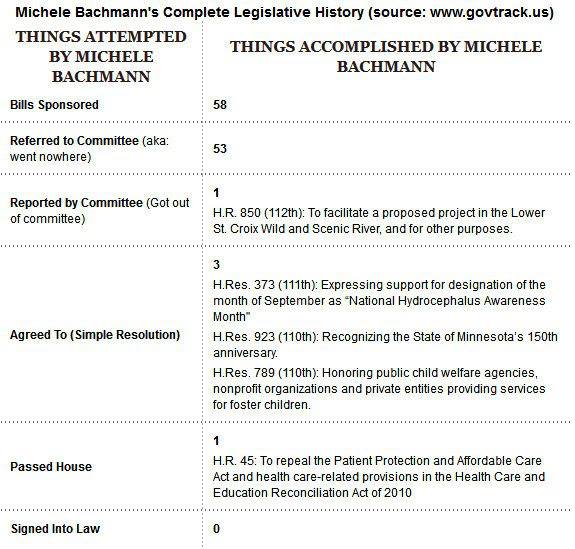 This is part of why I have failed to understand the desire to get rid of Michele Bachmann. She doesn't do anything. She just goes on TV and says things that aren't true. Or goes on the radio and says things that aren't true. Or goes wherever anyone will let her really, to say untrue things.
But she doesn't actually do anything legislatively. and more often then not she's a thorn in John Boehner's side.
And this last cycle she had to raise 10 times the amount of money as her Democratic opponent in order to win the most Republican district in the state by two points.
Meanwhile, John Kline is the chair of the Education committee in the House and is involved in actually crafting despicable legislation. He doesn't go on the TV and the radio and make a fool of himself though, so I guess he's not as bad right?
♣ Another tweet about a possible candidacy:
Julianne Ortmann is a sponsored page on Facebook. In 2013, that's an announcement she's running for governor.

— Bob Collins (@MyLittleBloggie) May 31, 2013
♣ And an actual announcement of a candidacy:
Republican Mike McFadden, an executive at the Lazard finance firm, announced on Wednesday that he would vie against Democratic U.S. Sen. Al Franken next year.

McFadden, who has never run for a high-profile office before, is the first Republican to announce a challenge to the Democratic incumbent. Franken won his first race by a recount-inducing few hundred votes.
It's still early of course, and the legislative session just got over with, but there are now three candidates who have announced against Mark Dayton for Governor and Al Franken for Senate and none of them are State Legislators.
It's my opinion, and I've expressed it before, that anyone who voted for the anti-Marriage amendment is essentially tainted for a statewide race. Which is why business people and county commissioners are probably the GOPs best bet.
Thanks for your feedback. If we like what you have to say, it may appear in a future post of reader reactions.