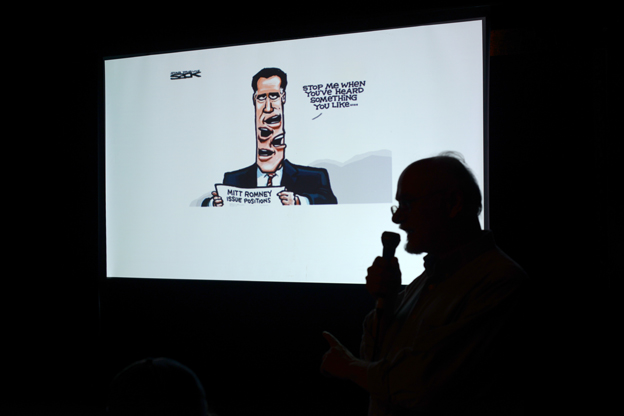 Pulitzer Prize winner Steve Sack at Drinking Liberally
Star Tribune cartoonist Steve Sack was the guest at Drinking Liberally last night, September 19th, at the 331 Club in Minneapolis.
Steve showed us a couple of dozen of his favorite cartoons and told us a little about how they came to be. (The one above is from a presidential election cycle before the most recent one, incidentally.)
Steve also talked about how got his cartooning start at the Minnesota Daily, his early inspiration cartoonist, Pat Oliphant, and the current rather sad decline of professional political cartooning in the difficult economic times for newspapers.
He also spoke — after a little prodding — about the Pulitzer Prize he won this year for his political cartoons.
The house was full, and Steve stuck around to answer questions from the crowd for over an hour.
One of the people there was L.K. Hanson, also a long time cartoonist at the Strib who currently does the "You Don't Say" feature that appears on Mondays. (Larry also did "Farley Goes to the Fair" for many years.) Here's Steve, and Larry on the right.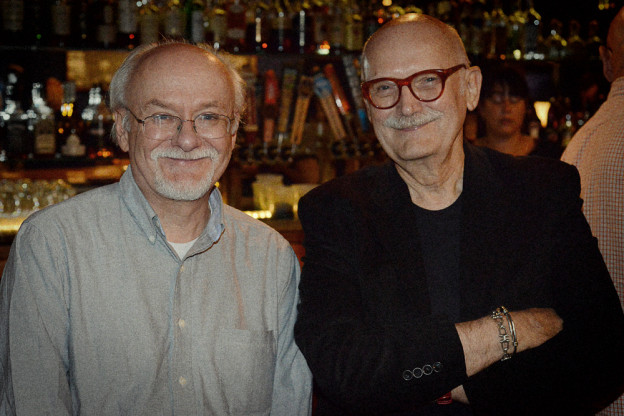 Thanks for your feedback. If we like what you have to say, it may appear in a future post of reader reactions.