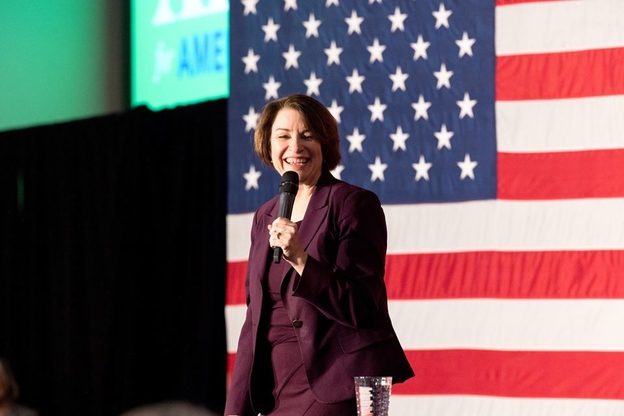 What should Sen. Klobuchar do now?
What with the way news gets around on the internet, you've probably seen that Sen. Amy Klobuchar (D-MN) ended – sorry, "suspended" – her presidential campaign, today. I'm not going to speculate as to what pressures may or may not have been brought to bear on her (or, for that matter, on The Smiler). Like they say, what's done is done.
I acknowledge that I did not support her campaign. I also confess to having looked with a cynical, jaundiced eye upon the state's corporate media fawning over it. Though I will say the media "coverage" wasn't as bad as during Tim Pawlenty's "effort," early last decade.
But, how about we look ahead? Should Sen. Klobuchar just head back to DC and keep doing her thing? I have a much better idea.
Why doesn't she become a loud, proud progressive leader? To wit:
– She could become a powerful, relentless Trump critic. We need more of those, with passion and guts, because things could get really bad. Really, really bad.
– She could change her position on sulfide mining. Which, actually, would be exactly the sort of political safe play to which she's been accustomed. Except with thieving corporate greedheads, that is, and she'll keep winning by 20+ anyway.
– Her priority between now and Election Day could be campaigning for DFLers throughout the state, at all levels. Especially progressives.
I could sit here and come up with more. But so, I'm sure, can you.
I know I'm dreaming. But I will note that like any politician with a record of big electoral success (until now) she's gotta be, and will only become more, conscious of her legacy. Which will look a lot better, in the long run, if she makes the sorts of changes that I, and tens of millions of others, would love to see.
Comment from Mac Hall: A leopard doesn't change her spots … so I expect Senator Klobuchar to take the media spotlight on major issues as much as … ah, what was the name of Clinton's VP choice ?
Is there anything in her track record to tell you that she will do anything to challenge the MNGOP to attract (and provide the campaign $$) to mount a challenge for her Senate seat in the next two decades ? Kurt Bills and Jim Newberger were not John Kline, Erik Paulsen or even Jason Lewis — the GOP knows that corporate Minnesota is happy with Amy … and "Uncle Dick" in the tree stand who may like a dyed-in-the-Red Republican can live with Amy.
Besides on the ground campaigning for DFLers, how about donating more of her "Follow the North Start Fund" leadership PAC funds to the DFL (she gave a miniscule $5,000 last cycle … Tom Emmer's leadership PAC gave $25,000 to the Republican Party of Minnesota.)
Thanks for your feedback. If we like what you have to say, it may appear in a future post of reader reactions.